Old Sacramento Waterfront Rewards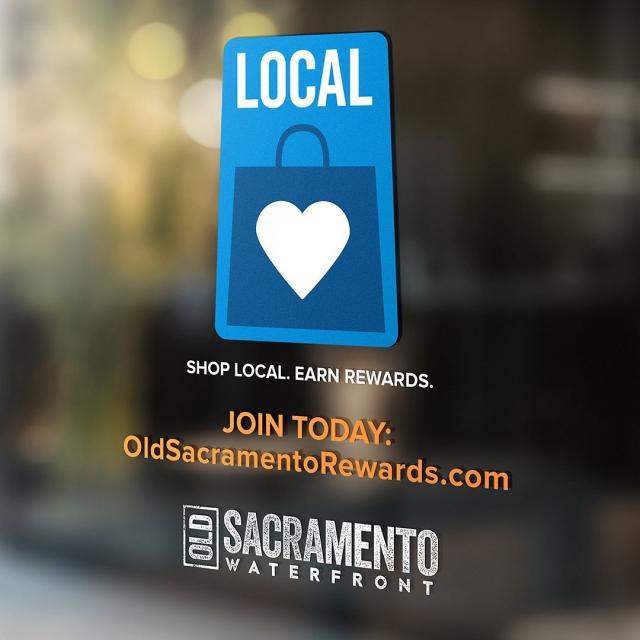 Have you heard the news?! You can now be rewarded for experiencing the Old Sacramento Waterfront! We are excited to announce the Old Sacramento Rewards program. You can now access exclusive offers, promotions, and other shopping incentives from Old Sacramento Waterfront restaurants, stores, and businesses. It's so simple to use too, you can access all these rewards from your mobile device!
Old Sacramento Waterfront Merchants will create promotions, rewards, and other incentives unique to their stores. No extra steps are needed! Old Sacramento Rewards replaces physical punch cards, coupons, and other low-tech loyalty programs.
How it works:
Step 1: Sign up! Create an account and link your credit card. The process is 100% secure and takes just minutes.
Step 2: Shop! Discover local businesses and shop using the credit cards you already used that are linked to your account.
Step 3: Get rewarded! Get instant rewards when you shop and know you are helping local businesses.
Step 4: Redeem! Cash in your points for gift cards, discounts, and other great perks, Including Old Sacramento Waterfront merch!
By signing up now, you'll be entered to win a $100 Visa gift card. Create your profile, register, and discover all merchants participating at OldSacramentoRewards.com today!
Meet the merchants!
Check out a few of the amazing places you can find rewards at the Old Sacramento Waterfront:
Blossom Bathhouse
Blu Nile Art
Chef's Olive Mix
Choices Ice Cream & Smoothie
Delta King
Hoppy's Railyard Kitchen
i-Shanghai Delight Chinese Restaurant
LiBush International Connections Africa
Mea Vita
NEO Escape Rooms
Rio City Café
River City Saloon
Sean Finnegans Pub
Sock City
Steamers
The Candy Barrel
Visions of Eden
Warehouse Creative
Willie's Burger
New merchants and rewards are added each week, so be sure to check OldSacramentoRewards.com for updates. Get rewarded for shopping like a local!
Be sure to tag the Old Sacramento Waterfront in your adventure on Facebook, Twitter, and Instagram for the chance to be featured on our social media channels.