SAC Waterfront Festival
Old Sacramento Waterfront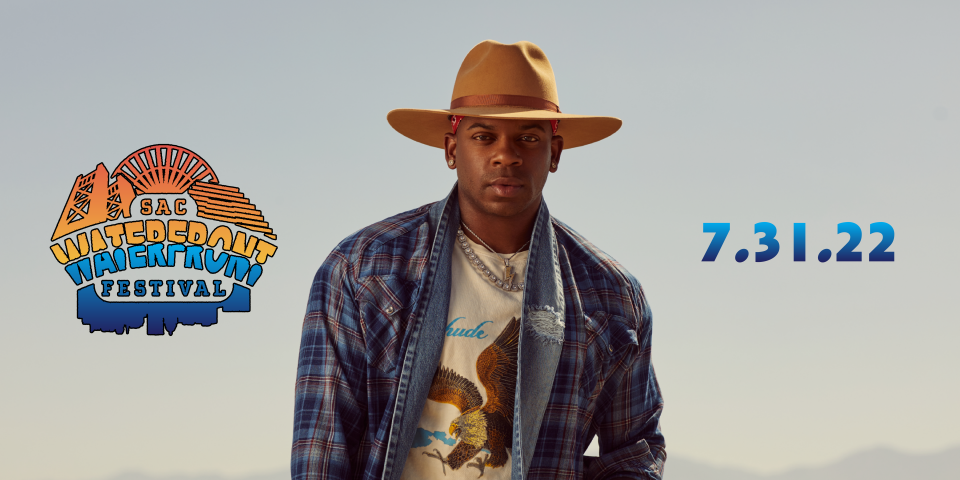 Jimmie Allen is bringing it to Sacramento! The Sac Waterfront Festival is the country festival of the summer coming July 31st!
For multi-platinum selling, trailblazing Country star and current GRAMMY Award nominee Jimmie Allen, a simple phrase sums up his view on life and music: Never give up.
A native of Southern Delaware – the "slower, lower" part of the state, he explains – Allen has carried that mantra with him through good times and bad, whether than meant living in his car or receiving his first ACM nomination for New Male Artist of the Year in 2019, a CMA Awards nomination for New Artist of the Year in 2020, subsequently winning the ACM Award for New Male Artist of the Year – the first Black artist to win that category since its inception, and a win with which he hopes "open[s] some doors for more Black artists to have success in country and more Black artists to feel comfortable enough to do country if that's what they want to do" – as well as the CMA New Artist of the Year Award in 2021. GRAMMY.com has hailed Allen as one of "5 Black Artists Rewriting Country Music" and he has amassed 1 billion career on-demand streams. Allen's current nomination for Best New Artist at the 64th Annual GRAMMY Awards in 2022 is his first ever GRAMMY nomination; he is also the only Country nominee in an all-genre category.
This February, Allen will embark on his Down Home Tour 2022. The trek marks his first headline tour. "I wanted to wait awhile before headlining because I wanted the timing to be right; I didn't want to rush it. I wanted to make sure I was ready, my band was ready, so we could give the audience what they deserve every night – which is greatness," he says of the upcoming trek.
As Allen's rising star power shows no signs of slowing down, he remains unapologetically himself and proof of what can happen when you never give up.
For more information on Allen, visit www.jimmieallenmusic.com or follow him on Instagram, Twitter and Facebook.