City of Trees Parade
Krewe of Trees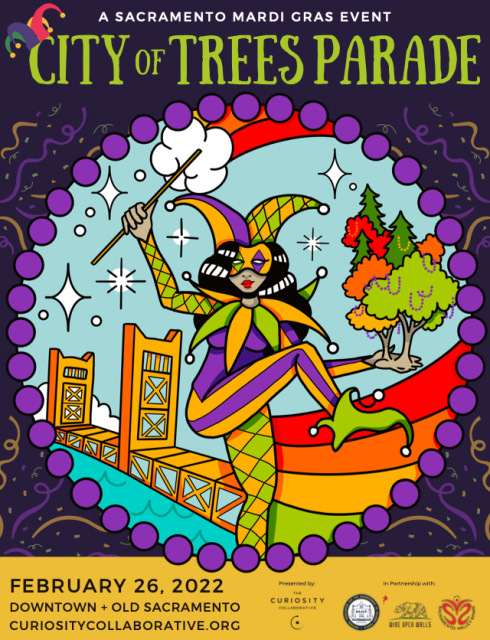 February 26th 5:00 pm – 7:00 pm
The City of Trees Parade will be a spectacular cultural showcase, lifting up the diverse and wonderful culture of Sacramento through the format of MARDI GRAS. On Saturday, February 26, our parade will roll through Downtown and Old Sacramento.
Wide Open Walls, Sacramento NAACP, and Sacramento Valley Spark are partnering with the Curiosity Collaborative to pull off this massive parade to showcase Sacramento's culturally diverse performance and art communities.
The resplendent parade will be include: floats, art cars, marching bands, poi spinners, brass bands, dancers, beads, and more! Grab your purple, green, and gold, and come join in on the Mardi Gras festivities!
There will be food trucks and bathrooms on the parade route, and Lousiana Sue's own Mardi Gras party will be happening in the Freeway Gardens of Old Sacramento, with drinks, traditional Louisiana foods, and live music!
Stay tuned to hear more about its thrilling performers, our rare and exciting Mardi Gras "throws," and celebrity guests! Want to get your group into the parade or make your business a sponsors? Reach out to @kreweoftrees to find out how!