CruiseFest
California Automobile Museum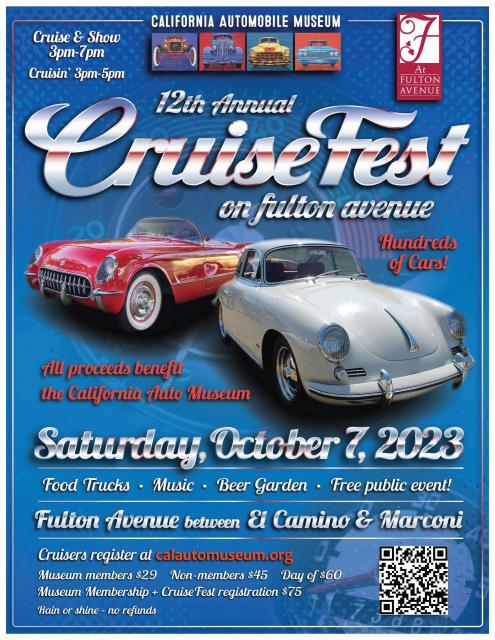 Just how awesome is this event? We block off Fulton Avenue between El Camino and Marconi and you get to Cruise It! Hundreds of cars of all makes and models and thousands of spectators are only the beginning. Food trucks, music, and our beer garden round out the program that makes CruiseFest on Fulton Ave one of the biggest family car events in Sacramento.

Once again, all of the fun (music, food trucks, and beer garden) brought to one central stage! While checking out all the cool cars cruising lined up on Fulton Avenue, stop by the festival area to listen to the music, grab a bite to eat from the food trucks, and have us pour you some local beer. Please note, there will be no judging this year.

Previous shows sold out and we had to turn cars away at the cruise so make sure you pre-register to ensure your spot in this year's show.

Proceeds of the event benefit the California Vehicle Foundation - a 501c3 charitable organization.
Registration: $29 for Museum Members, $45 for non-members, and $60 on the day of the show. One ticket per car.

Not a Museum member? Join at our Driver level and get a CruiseFest registration discount – both for just $75!