The DELTA KING Theater Presents THE JOHNNY GREAT AND DUTCH SHOW It's a Magic Show! It's a Musical!
The Delta King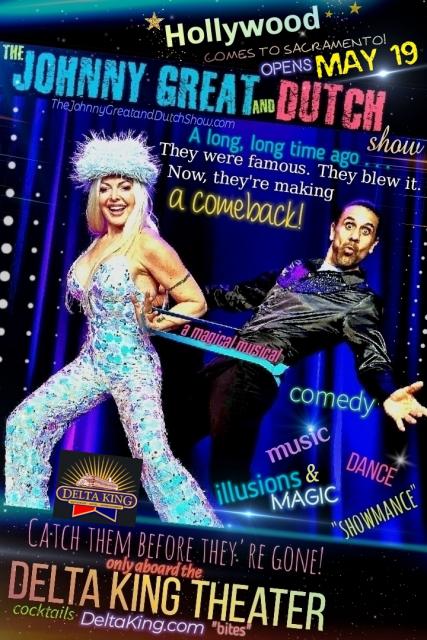 The Johnny Great And Dutch Show
The Johnny Great and Dutch Show (JGD Show) is a story driven live production show featuring COMEDY, MUSIC, MAGIC, ILLUSION, and DANCE.

Drawing inspiration from some of the greatest live performers, cabaret shows, improve acts, and TV/movies in the past seventy five years, The JGD Show offers a fresh take on the classic entertainment vibe in a "musical meets variety show" format!

From the modern skits of Saturday Night to the legendary antics of comedy duos like Lucille "I Love Lucy" Ball and Desi Arnaz, and movies like Austin Powers and Zoolander, humor and joy is at the heart of what we do. And, we do it all over a story line that follows the whirlwind lifestyle of showbiz's most "showmantic" couple while dancing and singing our hearts out over an original and homage musical score. Betcha' we'll have you dancing in your seat and that you'll leave the theater humming a melody from our original opener, "Here We Go!" or whistling one of Dutch's hit Latin songs! Or, maybe, you'll be too busy recalling your favorite skits and jokes, the colorful costumes, or trying to figure out how Dutch was cut in half sideways or how Johnny became a mind reader and captured the heart of America's sweetheart, Dutch!

Bottom line? As much as you (and we!) dig a good evening of "Netflix and chill", if you're looking for something special to do for a date night, a family outing, a memorable night with friends, or you're just looking for 80+ minutes of glee, wonder, and unforgettably catchy music and lyrics, you'll find it all in our one-of-a- kind "Magical Musical"!

Most easily summed up as a "Small Cast, Big Show" that's a little bit Broadway, a little bit Las Vegas, and a whole lotta delight, The Johnny Great and Dutch Show invites you to join come take a break from reality and remember that love always finds a way!