Downtown Sunday Drives
By California Automobile Museum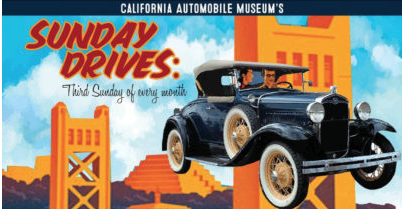 Every 3rd Sunday from CA Auto Museum.
Beginning in January every third Sunday we are hosting drives through Sacramento in vintage cars selected each month rides will be free with admissions (Donations Welcome!) and to various places in the Downtown Sacramento Area.
Have you ever wondered what it would have been like to cruise through old Sacramento in a Model A back in 1931? Well, we don't have a time machine so we cant take you back to Sacramento when it was 1931, but we do have a 1931 Model A and we can drive you through modern-day Sacramento. Join us every third Sunday for classic drives by landmarks around Sacramento.
*Weather contingent & Times are subject to change.