D'sean Ross Valentine's Day Special Event – Inside Jokes Outside Laughs
By Laughs Unlimited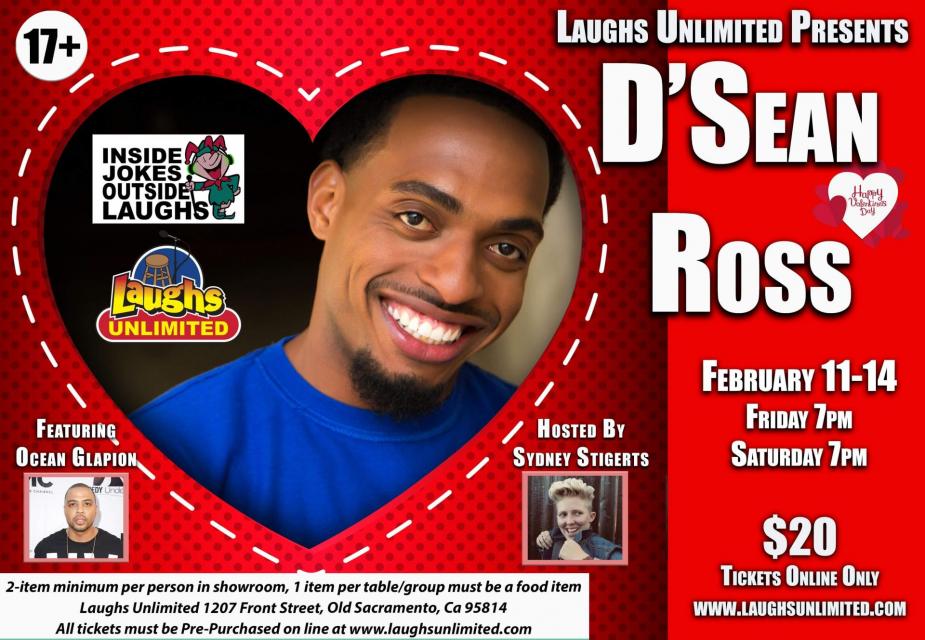 D'sean Ross is one of America's hottest up and coming comedian/actors. He is from Riverside California. He grew up always cracking jokes and was labeled a class clown. After college and several people telling him he was funny, he decided to comedy serious and made a career of it. He started doing open mic night in the Los Angeles area and was soon being noticed. Which landed him appearances on the Tom Joyner Show, MTV's Yo Mama, the Steve Harvey Show doing (warm-up), on BET Comic View, and TV-One Who's Got Jokes. He was then asked to fly oversees to Iraq to entertain our troops.
He was also blessed to go on tour with comedian Loni Love. His diverse style of comedy allows him the ability to perform not only in the traditional comedy clubs, but he can be booked for corporate meetings as well as college events. Currently he can be seen regularly at the Laugh Factory in Hollywood, Ca. as well as the chain of Improv's and Funny Bones, across the country.
*The show will be held outdoors to comply with the latest health mandates.