ELLIS RODRIGUEZ featuring Bo Johnson
Laughs Unlimited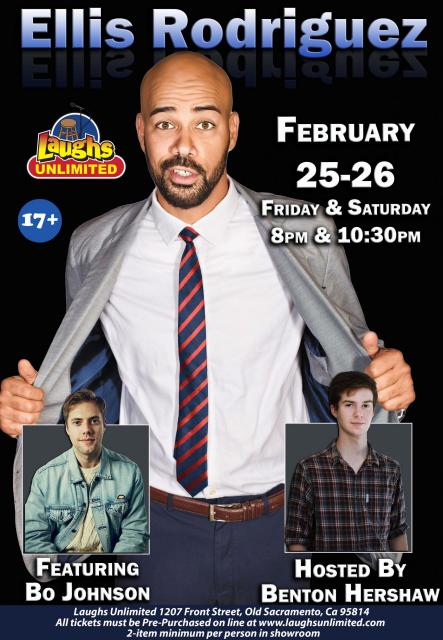 February 25 + 26
8:00 pm + 10:30 pm
Tickets – $25/person
Born in Boston, Ellis Rodriguez is by far the funniest of nine children raised by loving immigrant parents from Panama. Living in a multi-racial, uni-cultural family gave him a unique perspective on life. He grew up speaking Spanish at home, English at church, and Ebonics in school.
Ellis Rodriguez spent his early twenties serving in the United States Marine Corps, but found his calling when he picked up a mic, and did what he'd been doing his whole life, entertaining anyone who would listen. And now countless are listening, and laughing. His commanding presence, charming personality and hilarious material make him one of the best up and coming comics today.
Ellis Rodriguez's passion for stand up comedy is evident whenever he performs, he is a favorite at comedy clubs across the West Coast including the Improv, Laughs Unlimited, Tommy T's, PepperBelly's, and the Laugh Factory. This Latino former Marine is smart and charismatic, and always full of surprises. An energetic performer, his comedy is appealing to any comedy audience.