An Evening of Love & Tango
by Tango by the River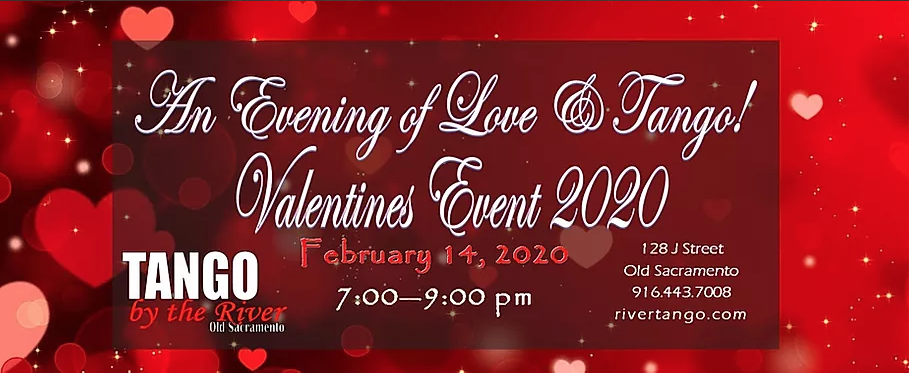 Valentines Day is the day of love, and what better way to celebrate the day of love than with the dance of love? Join Tango by the River on Friday, February 14, 2020, for a very special event: "An Evening of Love & Tango!" from 7:00-9:00 pm.​​
What They'll Do:
First, you will enjoy a complimentary selection of Argentine wines and light appetizers while listening to Tango music and learning about the origins of this passionate dance. Then you will experience a Tango demonstration to highlight the sensuality and drama of tango. After the demonstration, you will be treated to a special introductory class with the dancers, who will show you a few simple steps to get you started on the dance floor. Finally, you'll finish the evening with a delicious dessert. Join us for a wonderful evening and experience the passion of Argentine Tango!​
The cost is $30 per person in advance, $40 at the door. Tickets are limited to 40 people (and it will sell out!), so sign up now to reserve your space at this special event. ​
About Your Host:
Donna Tielsch is the studio owner and main instructor at Tango by the River. Argentine Tango has been her passion for the past 20 years, during which time she has danced, taught, and performed Tango all across the United States, in Europe, and in Buenos Aires, Argentina. She is the first-ever American to be admitted to the "Cuadro de Amigos" in El Academia Nacional del Tango (the National Academy of Tango) in Buenos Aires. She has taught over 3,000 classes, hosted over 2,800 milongas and practicas, produced 7 sold-out tango shows, led 6 tango tours to Buenos Aires, hosted the Lake Tahoe Tango Festival 2018 & 2019, and still possesses 1 burning love of tango! ​