Independence Day Boat Parade
Old Sacramento Waterfront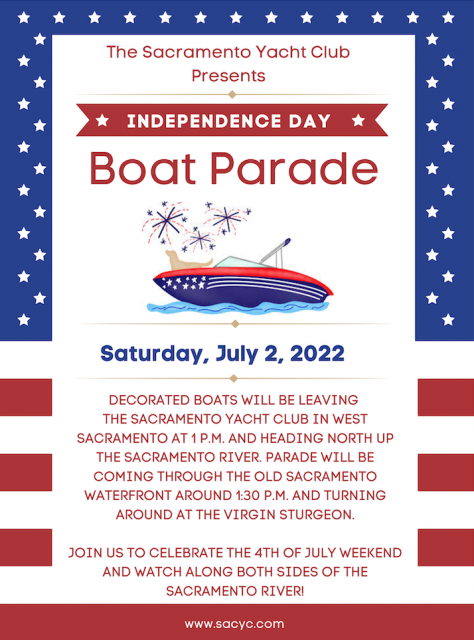 The Sacramento Yacht Club is excited to announce the annual Independence Day Boat Parade ready to sail away!
Decorated boats will be leaving The Sacramento Yacht Club in West Sacramento, cruising north up the Sacramento River, and passing through Old Sacramento. The boats will continue up the river, turn around at Virgin Surgeon, and head back to West Sacramento.
The Sacramento Yacht Club is inviting members of the public to watch the boat parade along both sides of the Sacramento River. On the West Sacramento side great viewing spots include the walking path off Locks Drive on South River Road, Drake's The Barn, River Walk Trail, Mill Street Pier, and River Walk Park. On the Sacramento side, guests can find great spots at the Old Sacramento Waterfront, Crawdad's on the River and of course the turn point, the Virgin Sturgeon.
Boats will be decorated in the theme "Stars and Stripes Forever."
Grab a chair, find a comfortable spot to relax, and enjoy a beautiful Saturday afternoon in Sacramento watching local boaters cruise by.