Interlude: Opening Reception
Atrium 916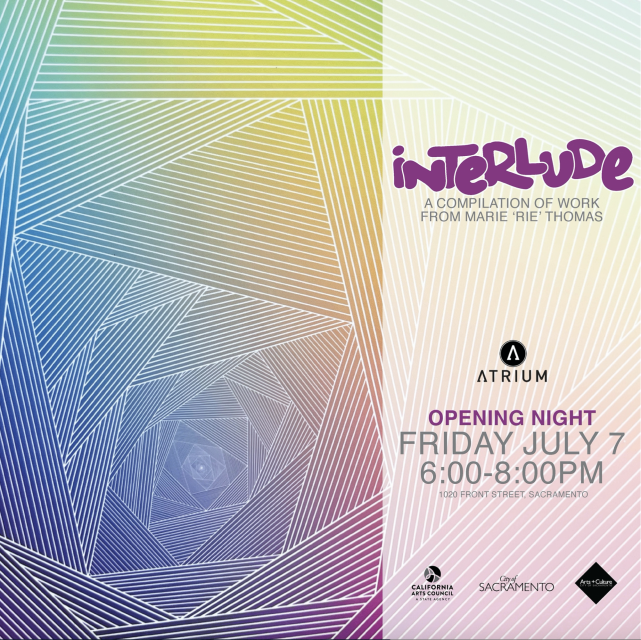 Artist Marie "Rie" Thomas draws creative inspiration from life experiences including music, film, and travels. Thomas' work is as colorful and eclectic as her varied influences. Her bold new exhibition "Interlude" is a collection of visual experiments which explore themes of feminine empowerment and art as a therapeutic outlet. From gestural figurative forms to repetitive zen tangle patterns, Thomas' work is diverse in process as well as aesthetic.

"Interlude" is an exhibition of work which has been completed in an exploratory process, integrating many styles and media. As an eco-conscious artist striving for sustainability, Thomas has upcycled canvases and art materials to bring new life to otherwise discarded objects. Piecing together recycled canvases, Thomas has created vibrantly colored patchwork pieces of art, resulting in layers of dimensional texture.

From pen and ink illustration to oil pastel compositions and acrylic paintings, Rie Thomas has bridged these various mediums to create a colorful exhibition incorporating repetitive pattern and action painting. This compilation of work celebrates the feminine form, ecological sustainability in art, and art as a therapeutic process.

Sustainability lovers and art collectors alike are invited to the exhibition opening night. Enjoy live music and complimentary beverages. The gallery space is well ventilated with floor to ceiling accordion french doors that open to the patio, creating an indoor/outdoor setting.

The exhibition runs from July 7th – August 6th, Wednesday through Sunday 10am-6pm.