Mardi Gras Pub Crawl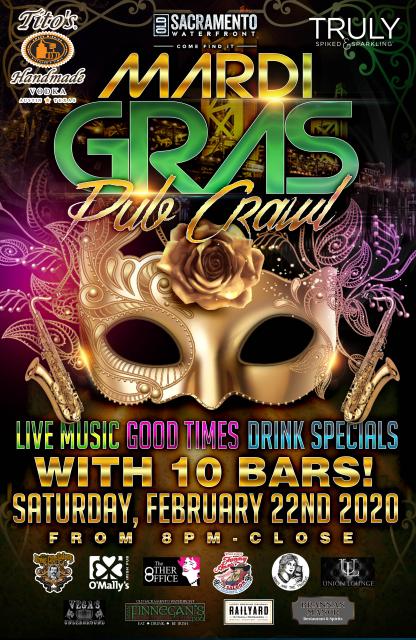 Celebrate like you're on Bourbon Street Mardi Gras Saturday!
The annual Mardi Gras Pub Crawl is back and better than ever with 10 bars that make bring the streets of Old Sacramento alive.
Live music, Dj's and entertainment at some bars as well as Street and band performers traveling the boardwalks for a 21 and over pub crawl spreading Mardi Gras cheer.
Tito's Vodka Mardi Gras specials at each bar all night long! Participating bars include:
River City Saloon
The Other Office
Fanny Ann's Saloon
Brannan Manor
O'Mally's Irish Pub
Honey & the Trap Cat
Vega's Underground
Hoppy's Railyard Hopgarden
Sean Finnegan's Pub
The Union Lounge
View event map here.