Plenty O' Pumpkin's Patch
Children's Receiving Home of Sacramento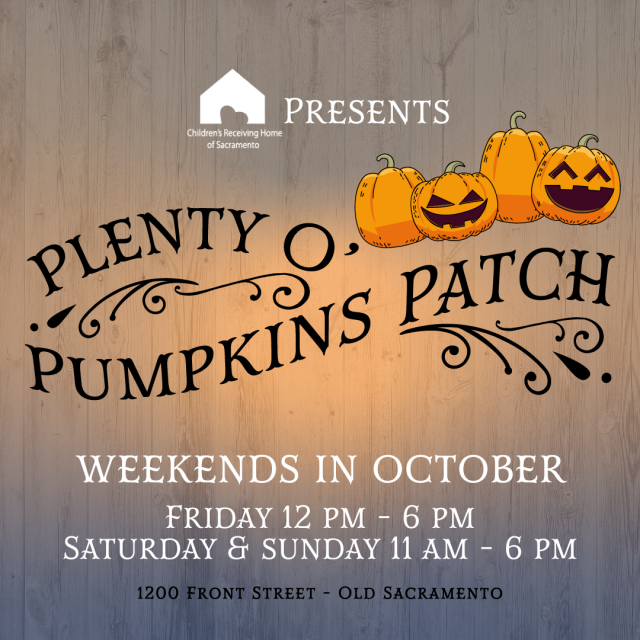 Come Find Fall in the Old Sacramento Waterfront with our OctoberTour promotion featuring the first ever Pumpkin Patch within the district! The Children's Receiving Home is excited to announce a new volunteering opportunity during the month of October. In partnership with Old Sacramento Waterfront, we will be hosting a Pumpkin Patch to benefit the youth and families CRH serves, as well as Caleb Greenwood Elementary.
Hours – The Month of October (weather permitting)
Fridays 12 PM – 6 PM
Saturdays & Sundays 11 AM – 6 PM
Volunteer Opportunities
We are currently seeking volunteers to help us manage, process cashless transactions, and help people carry or pick their pumpkins. The pumpkin patch will be at Old School House in Old Sacramento.
The pumpkin patch will be open Friday through Sunday throughout the month of October. On Fridays, the pumpkin patch will be open from 12 PM to 6 PM, and weekends 11 AM – 6 PM.
There will be three volunteer shift options ranging from 1-2 hour shifts:
11:30 AM - 1:30 PM
1:30 PM - 3:30 PM
3:30 PM - 5:30 PM
5:30 PM - 6:30 PM

On weekends the pumpkin patch will be open 11 AM- 6 PM.
There will be four volunteer options that will all be 2-hour shifts each:
10:30 AM – 12:30 PM
12:30 PM – 2:30 PM
2:30 PM - 4:30 PM
4:30 PM – 6:30 PM
Paid parking is available at parking meters and the Tower Bridge Garage.
Kids are more than welcome to come and volunteer for this event as long as they are accompanied by an adult 18 years or older during their entire shift.
If you would like to volunteer with a group bigger than four please email Ramona at rmeza@crhkids.org directly please so we can accommodate.