A Royal Affair: A Celebration of Women Through Art & Cultures
YAS (You Aspire Success) Queen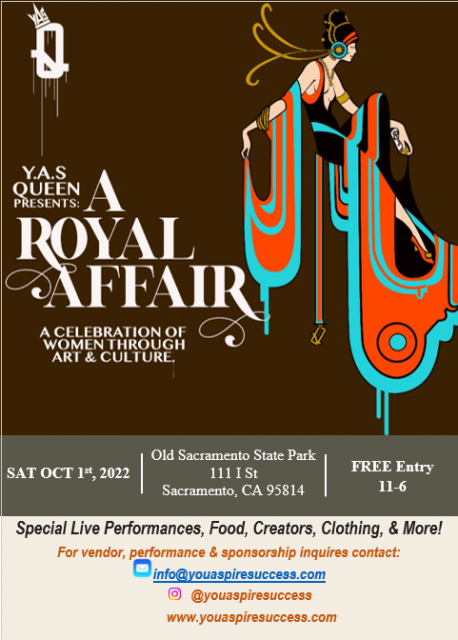 YAS Queen, will host a celebration of Women through Arts & Culture which will promote women's empowerment and education, family strength, and community collaboration through the various cultures prominent in Northern California. Local musical artists hitting our stage: S.I.A.T with over 2 million streams from her hit song "Stay In My Lane" she brings uplifting music and empowerment to all who follow her. Sene Goss is more than just a beautiful voice & face whose mission is to spread awareness of self-discovery to young black & brown female creatives. Charitte artist, vocalist, and lyricist shares her growth as a person & artist through her music.
In honor of Filipino American History Month, we have musical sensation Ruby Ibarra, rapper, director, and spoken word artist from the Bay Area. Her most recent accomplishment includes her hit song "Us" being added to the NBA2K23 video game's soundtrack.
Also performing are cultural dance companies Vaipuna No Te Here (Polynesian Dance & Music) and Grupo Folrolico de Victoria Mendoza (Mexican Folklore Dance Group). We also have hip-hop dance prodigy Rielle Sol Child. Hosting the Royal Affair are 4 Best Friends Only a women's group that came together to create a movement for women to uplift and inspire through friendship. Our house DJ, Sacramento native, DJ Epik, will be keeping things funky! Along with DJ Aleyah Imani who will be entertaining the crowd with her own set!
A Royal Affair workshop to be presented: Vanessa Cordero Gabine with an MBA from Berkley, is a top exec for Amazon, and manages ½ billion dollars, she will present a variety of interview tips and tricks. Joanne Mendoza, real estate broker and author of The Power of Real Estate Investing for Women: A Step-By-Step Guide to Investing, Buying, and Selling Real Estate will be presenting and doing a reading from her book.
We will also have live art painting by the phenomenal artist Emagn and fundraising efforts for our late founder, Dr. Gwen Angelica Agustin-Nodora's SFSU annual scholarship.
We have an assortment of vendors and cultural food to keep everyone involved and active. There is also a Tribute Art Contest for the youth that we will be spotlighting during the festival and announcing the $200 winner!