Tami Cooper Opening Reception: A Collection of Textured Paintings
Atrium 916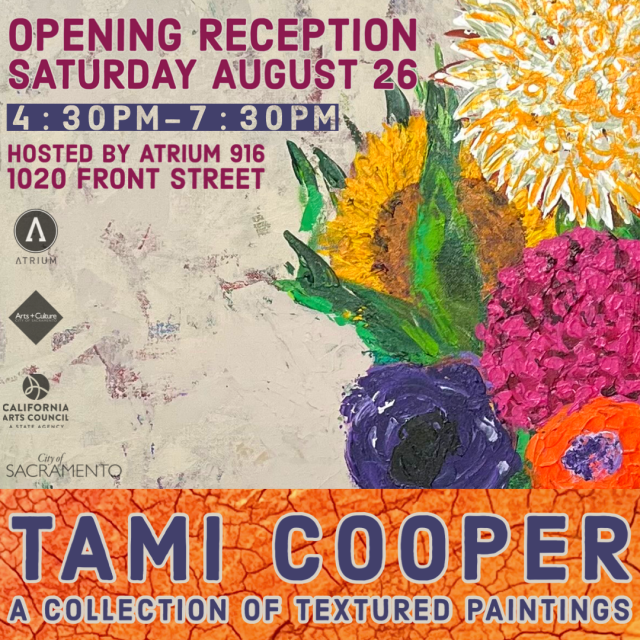 Saturday, August 26th, Tami Cooper debuts eco-friendly artworks in her first solo exhibition. Meet the artist with an exclusive interview and sip complimentary wine at this free event in Old Sacramento.

Tami Cooper creates eco-friendly artworks inspired by the infinite possibilities found in the discarded materials she encounters in her daily life. Primarily working with paint on canvas in this exhibition, Cooper's still life works are crisp and vibrant. Layering abstract textures with representational subjects, Cooper's work is the meeting of contrasts.

A retired high school mathematics teacher, Cooper integrates her math background with her creative process. An innovative problem solver, Cooper has found that through teaching math, a creative mindset is essential when explaining abstract algebraic concepts to students. Linearity, geometry, pattern, abstraction and reflection are all fundamental applications Cooper has utilized in her art.

Cooper paints graphic floral arrangements, landscapes, and intertwines abstraction into her compositions. Working in an intuitive process, you will find interpretations in metallics, bold color, contrasting finishes, and texture emerging from canvases to create dynamic dimension.

Finding opportunity for new life in rejected materials like fence posts or wood cabinetry dunnaged in renovation, Cooper has upcycled industrial material to frame her layered works.

Sustainability lovers and art collectors alike are invited to the exhibition opening night. Enjoy live music and complimentary beverages. The gallery space is well ventilated with floor to ceiling accordion french doors that open to the patio, creating an indoor/outdoor setting.