Tango By The River
Tango By The River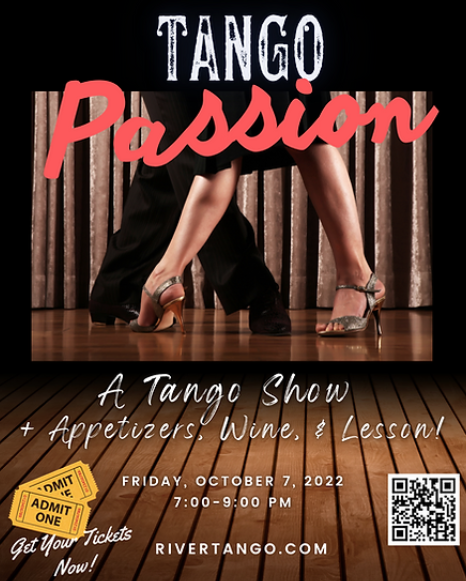 Tango by the River is hosting a fantastically unique event! Join us on Friday, October 7, 2022, from 7:00-9:00 pm for
"Una Noche de Pasión ~ A Night of Passion!" This is the perfect evening for those intrigued by this elegant and sensuous dance as well as for anyone seeking a truly one-of-a-kind experience.
​
What We'll Do:
First, we will enjoy a complimentary selection of Argentine wines and light appetizers while listening to Tango music and learning about the origins of this passionate dance. Then you will experience a Tango show by both professional Tango dancers and students of the school to highlight the drama of tango at a performance level. After the show, you will be treated to a special "Taste of Tango" introductory class with the dancers, who will show you a few simple steps to get you started on the dance floor. Finally, you'll finish the evening with a delicious dessert. Join us for a wonderful evening and experience the passion of Argentine Tango!
​
The cost is $30 per person in advance, $40 at the door. We are limiting the evening to 40 people