Theatre of Lights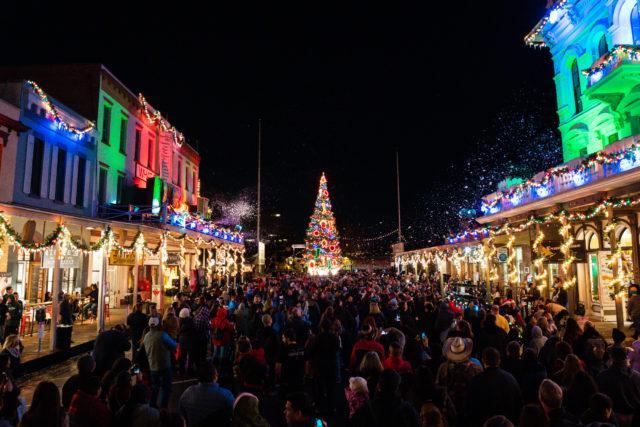 Kick off the holiday season at the Old Sacramento Waterfront with an electrifying and family-friendly holiday tradition — the free "Macy's Theatre of Lights" show!
Don't miss the first performance of the season immediately following the Holiday Tree Lighting Ceremony at Front & K streets. The fun begins at 5 p.m. with entertainment and tree lighting festivities followed by the first Theatre of Lights performance at approximately 6:15 p.m.
Theatre of Lights is a free holiday lighting extravaganza at the Old Sacramento Waterfront produced by the Downtown Sacramento Partnership. The nightly performances Thanksgiving Eve – Christmas Eve (Thurs-Sun, no show on Thanksgiving) features a live-action retelling of Moore's 1823 poem — "A Visit from St. Nicholas," more popularly known as "Twas the Night Before Christmas."
The highlight of the 20-minute production is a live dramatization on the balconies above K Street, complete with a special appearance by Jack Frost, and the lighting of the 60-foot Christmas tree by St. Nick himself. Discover how early pioneers experienced the calamities — and revelry — that befell the new city in the 1850s, the sounds of the fires, floods and parties will surround the audience as the 150-year-old building facades light up with color.
Conceived and created by Stage Nine Exhibitions' Troy Carlson, Theatre of Lights brings together some of California's finest talents in the field of light and sound: BP Productions, Associated Sound and Emmy-nominated voice actor Bill Farmer, the voice of Disney's Goofy.
Plan ahead!
Visit our directory pages for nearby family-friendly dining options, shopping, attractions and entertainment.
Parking
Convenient nearby garage parking* is available at:
Tower Garage – 1289 Front Street, at Capitol Mall
Old Sacramento Garage – 274 I Street, between 2nd & 3rd streets
Nov. 29-Dec. 24., limited street parking is free after 4:30 p.m. on weekdays and free all day Saturdays and Sundays.
*Weekend (Fri-Sun after 3 p.m.) Garage Pre-Pay Rate is $10. Visit SacPark.org for more details.
Bus/Light Rail
Let SacRT make planning your trip easy! The Old Sacramento Waterfront is steps away from the Sacramento Valley Station. Plan your trip here.