Upcycle Pop Eco Art Market
by Atrium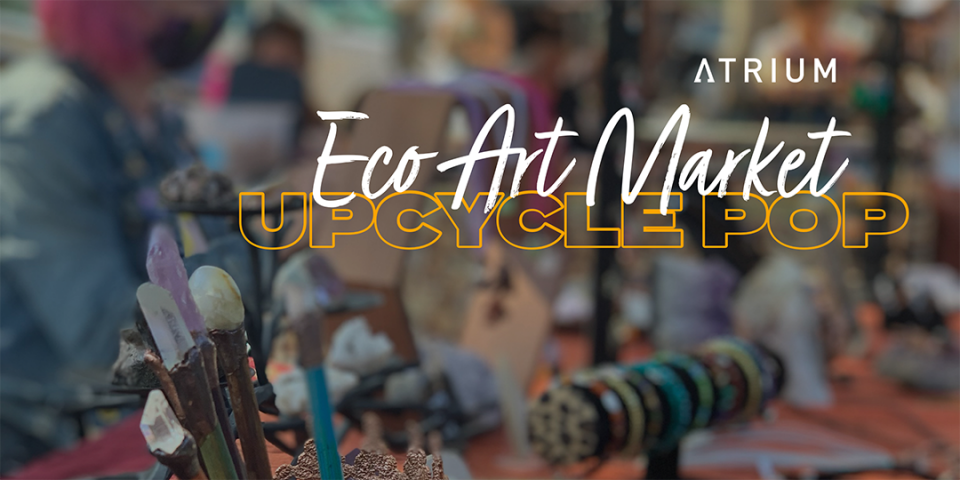 The weekend eco-art market for eco-friendly art and products happening Saturday and Sunday mornings in Old Sacramento, California
This Eco-Art Market known as Upcycle Pop is an outdoor art market for eco-friendly art and creatively upcycled items located in the historic district of the Old Sacramento Waterfront. The market happens every Saturday and Sunday at the Atrium, 1020 Front Street, Sacramento's Creative Innovation Center for Sustainability.
Outdoors and adhering to current covid guidelines we have kid-friendly stuff to do – Paint a canvas, make chalk art, drop in for a hip hop class, play our piano, play our recycle challenge art installation game or enjoy a Kombucha.
This is a fun place to meet Sacramento local makers, shop, make, play, and watch eco artists create. Meet the Studio artists at the Atrium, Kip Bridges with Sebridges Gallery, Sheilagh McCafferty with Sac Costumers, Yennie Zhou with Yennie Zhou Designs, Kat Martinez, and Brandon GreatHouse with GreatHouse of Dance.
If you're not up on the green lingo and are asking what is upcycling? The best way to think of upcycling is that it's like a sexier, even greener version of recycling. Upcycling adds value by transforming or reinventing an otherwise-disposable item into something of higher quality. It's the ultimate in reuse–and we believe a whole new industry sector is shaping up around it. Old Jeans are turned into reusable shopping bags, pallets turned into urban chic furniture, and plastic bottles into Geodesic Sphere Chandeliers.
Our interactive art installations educate and inspire sustainable living. We love to remake, play, and get creative. Live performances will be returning soon.
Paint & Booch: paint and sip on Kombucha with us!
We are beginning to offer a fun and relaxing thing to do - paint with us. At the Atrium we don't serve food we serve Art. Spend a chill moment painting in the shade outdoors with music. Take your time and spend an hour healing yourself from the hustle and bustle and paint a canvas, a mask, or a magnet that you can cherish. A romantic fun thing to do at the Old Sacramento Waterfront. A great thing for kids to do and makes an entertaining gift for the grandparents.