VIP Cocktail Train Ride
California State Railroad Museum Foundation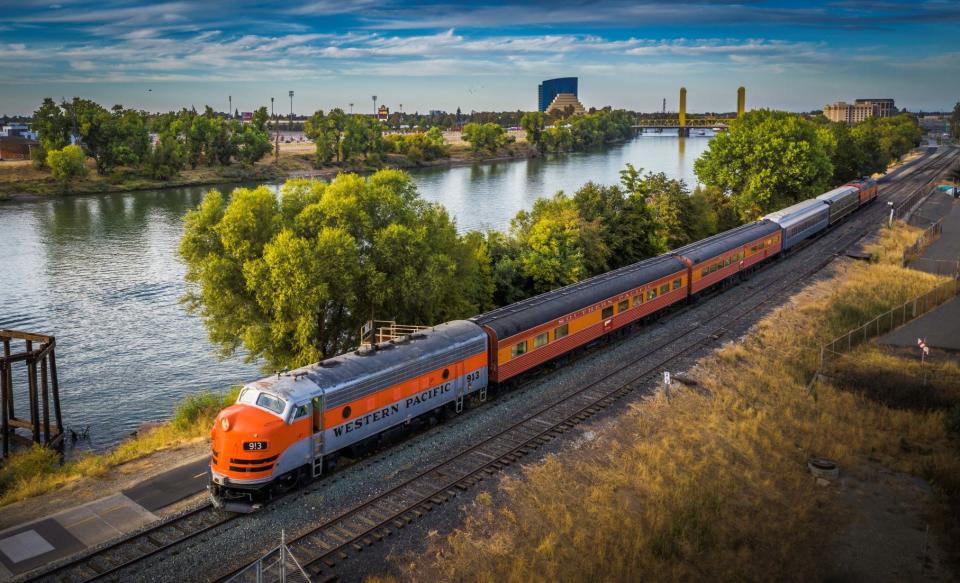 Departing from the Central Pacific Freight Depot along the Old Sacramento Waterfront, VIP Cocktail Train ride guests can sit back and experience what first-class was like during the early decades of the 20th century as developed by the Southern Pacific Railroad. Space is limited on the Farm-To-Fork Cocktail Train and tickets are on sale now.
Train ride tickets cost $125 per person and all train ride guests must be 21 years of age or over.
Ticketed guests will be treated to a series of exquisite small plate appetizers provided by Frank Fat's and paired with a craft cocktail, wine or sparkling selections. The deliciously delightful menu includes Honey Walnut Prawns paired with a craft cocktail that features Gold River Distillery Vodka; Vegetable Chow Fun paired with a Chardonnay from Talbott Vineyards; Cumin Spiced Lamb Skewers from Superior Farms paired with a Cabernet Sauvignon from Mettler Family Vineyards; and finished with a choice of delicious desserts that include Banana Cream or Chocolate Cream Pie Shooters paired with Champagne served in a keepsake souvenir glass.
Uniformed stewards will provide the finest first-class service onboard three of the California State Railroad Museum's first-class cars: the Audubon dining car, the El Dorado lounge car and the French Quarter lounge car from the 1950s that served the famed Southern Pacific "Sunset Limited" service. As an added treat, the cars will be pulled by two eye-catching locomotives – Western Pacific No. 913 and Southern Pacific No. 6051 – both of which are classic streamlined locomotives representative of the first generation of diesel-electric locomotives.