Zero Waste Mobile Art Cafe- Ribbon Cutting with Sunset Paint & Sip on the River
Embarcadero - J Street River Overlook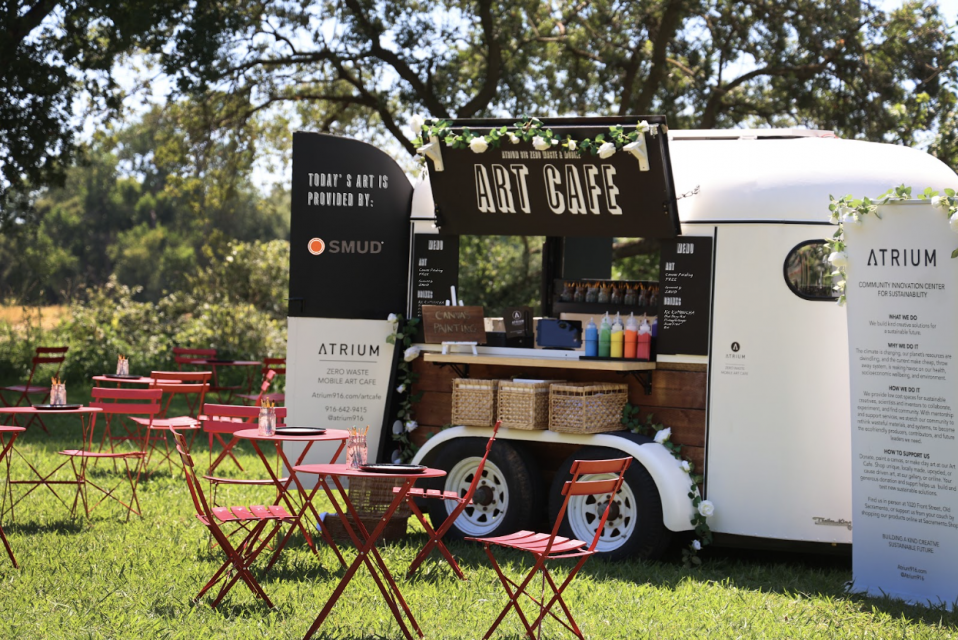 Atrium 916, a non-profit organization dedicated to promoting sustainability, creativity and environmental justice, is excited to announce the launch of its Zero Waste Mobile Art Cafe. The ribbon cutting event will be held on the Sacramento River, Friday, September 29, 2023, from 5:30 PM to 8:00 PM on the Old Sacramento Waterfront.

The Zero Waste Mobile Art Cafe is an innovative popup that combines art, community, and sustainability. Housed in an upcycled 1950's vintage horse trailer, the cafe that is completely solar powered, will travel to various locations to offer communities inclusive art activities, paired with locally brewed KC kombucha for a healthy sustainable Paint and Sip experience. Bright bistro tables and chairs create a welcoming environment for people of all ages to gather and connect.

Serving art, not food, the Zero Waste Mobile Art Cafe provides canvas painting and canvas tote bag painting, while educating on sustainability with its Recycle Challenge game.

"We are deeply grateful to SMUD and the Shine Award Program, for making it possible to release our Zero-Waste Mobile Art Cafe into the wild. We are looking forward to collaborating with our local nonprofits to provide healing art activations and sustainable ways to lower your carbon footprint within our communities." Shira Lane, Designer and Executive Director, Atrium 916.

The horse trailer, now mobile art cafe, was upcycled and fabricated by talented Sacramento artist Mike Jones, also known as Science Teacher Jones and will be seen popping up in various community events and can be booked upon request for day or evening events at Atrium916.com/artcafe.

The launch event on September 29th will be free and open to the public. The first 30 attendees will enjoy a sunset on the river with a free booch, sip and paint with the Zero-Waste Mobile Art Cafe.

"We are excited to bring this activation to the Waterfront," said Chelsea Evans, District Manager of Old Sacramento Waterfront.

Schedule of Events:
5:30 PM: Arrive and explore the features of the mobile art cafe and trailer.
6:00 PM: Hear from SMUD Board members and elected officials.
6:15 PM: Ribbon-cutting ceremony and grand opening of the art cafe, with free art and kombucha for the first 30 people.

About Atrium 916
Atrium 916 is a non-profit organization dedicated to promoting creativity, sustainability and environmental justice, building an inclusive circular economy.