Ashley Deering aka Depressed Happily's Gallery Showcase
Atrium 916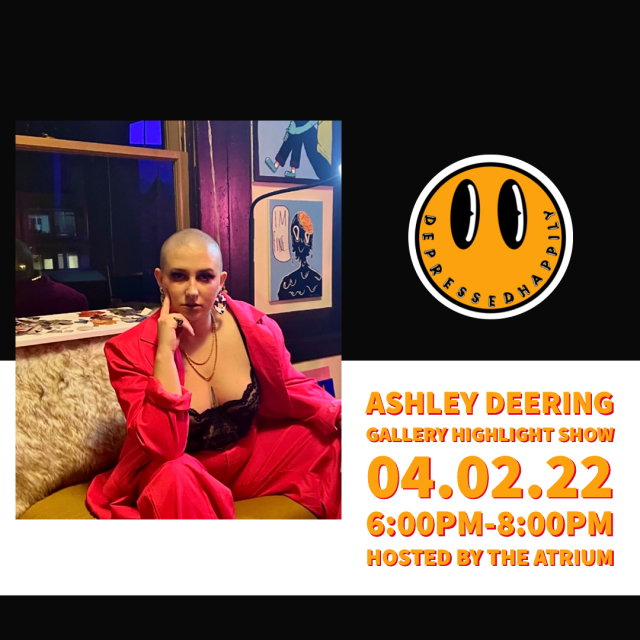 Atrium April Gallery Highlight showcasing local
artist Ashley Deering,

"DepressedHappily"
Ashley Deering's inaugural show is an abundance of texture and
color – sip wine, meet the artist and talk art at the Atrium Gallery in
romantic Old Sacramento.
On Saturday, April 2nd, come and meet Ashley Deering, the artist and creator behind
DepressedHappily as she premiers her first ever gallery showing at the Atrium, Sacramento's
Creative Innovation Center for Sustainability. Hear her story of self-discovery and
perseverance that lead her to her artistic journey. Her body of work is colorful and tactile; a
tantalizing mixed-media blend of painting and sculpture.
In an effort to be sustainable, Deering uses discarded and upcycled materials in her work. She
includes paint chips and scraps left over from her past projects, which makes her work
virtually zero-waste. She draws her inspiration from her favorite childhood animators and
cartoons to create 3-dimensional pieces bursting with color and character while exploring
complex themes. The Atrium is honored and excited to showcase her work to the world. The
event includes delicious refreshments and an interview with the artist.
This event will be held on our open-air patio and within the Atrium Gallery. The gallery is an
indoor/outdoor setting with floor to ceiling air french doors which open to the patio.