Gallery Opening for Courtney Brignac "SknBones"
Atrium 916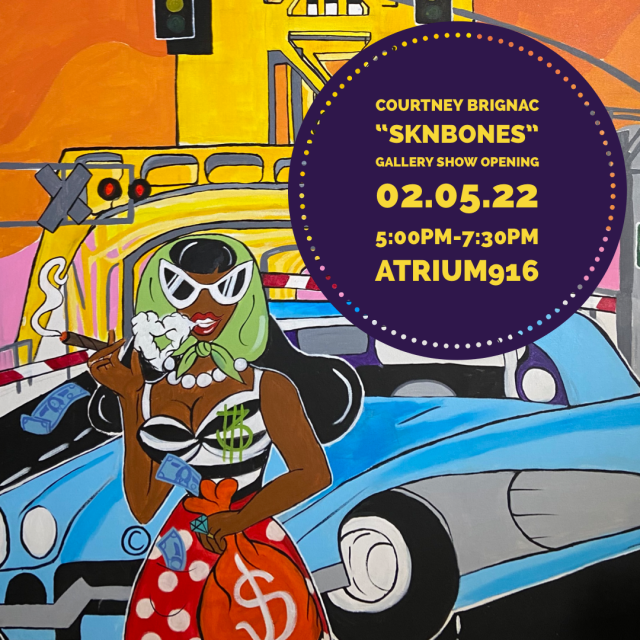 Atrium February Gallery Opening for Courtney Brignac "SknBones"
February 5th – 5:00pm-7:30PM
The Atrium is celebrating Black History month and the grand opening of Atrium 916's new gallery space that features a new artist every month. Opening the gallery with up-and-coming Sacramento artist Courtney Brignac.
In the midst of the gorgeous old brick buildings and wooden boardwalks of Old Sacramento you can find the vibrantly colorful Atrium Creative Innovation Center for Sustainability. The newest addition to this bright young artistic collective is the gallery space which will be hosting rotating shows, classes and events each month.
February 5th, 2022 is the gallery's inaugural show, featuring local artist Courtney Brignac. Brignac goes by her artist name "SknBones" and her work features highly saturated color schemes with distinctive characters steeped in personal symbolism.
Courtney has a long history with Sacramento as a graduate of El Camino Fundamental high school where she was named All city for her time as the high school's starting point guard on the Varsity girls basketball team. Today she is focused on growing in her career as a full-time orthodontic assistant while sharing her creativity through her art and modeling. You may recognize some of her art being highlighted on the cans at Oak Park brewery featuring her character "LiQ" and in local shops around Sacramento such as Getta Clue, Total Culture, and Exhale Smoke Shop. The Atrium is honored and excited to showcase her vibrant work to the world. Welcoming refreshments and a panel discussion will be part of the gallery opening.
All Atrium events are designed with Covid safety at the forefront. Masks are asked to be worn while inside. The gallery is an indoor/outdoor setting with floor to ceiling open air french doors.