Little Eco Art Market in Old Sacramento with kid activities
Atrium 916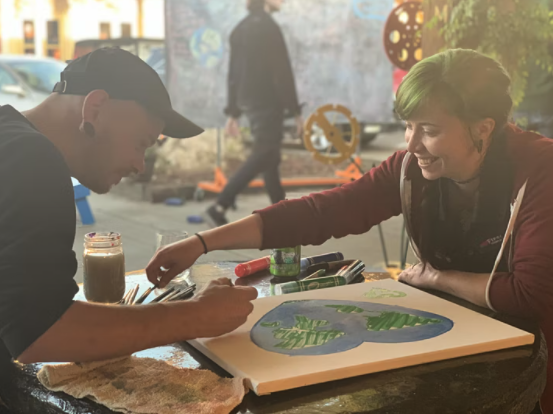 Saturday mornings in Old Sacramento bring local creatives popping up in front of the Atrium Gallery and art cafe. Kids can paint a canvas, make clay magnets, ride the train, or play the piano while parents can sip Kombucha and check out the gallery and vendors.
The Atrium, a gallery / art cafe, and gift shop has been named one of the most unique stores in California. Inside you will find a world of sustainable discovery and innovation. A baby grand piano is available to play, fine art for viewing and to take home. The Art cafe serves art not food, where canvases, clay, and paint are served on a golden platter for your artistic expression. All creatives both in the gallery and vendors popping up incorporate up-cycled materials, refillable packaging, and eco-friendly products in an effort to move towards a healthier and kinder future for all.
Enjoy the historic setting of Old Sacramento while browsing forward-thinking innovations developed right here in our city. Support the local creative maker community and ask for a cold can of locally-brewed kombucha and a taste of the most recent gallery show.
Atrium Eco-Art Market
Saturday, June 4th, 2022 to Saturday, October 29th, 2022
11:00 AM – 3:00 PM
Atrium – 1020 Front Street, Old Sacramento CA 95814
Cost: Free
Atrium 916 is a Creative Innovation Center for Sustainability on a mission to build a kind creative and sustainable future. We do this by elevating the local creative economy to build a circular economy. With impactful system solutions, education, art, and events, the Atrium is a hub where creatives come to collaborate and innovate towards the regenerative omni-considerate future this planet needs.